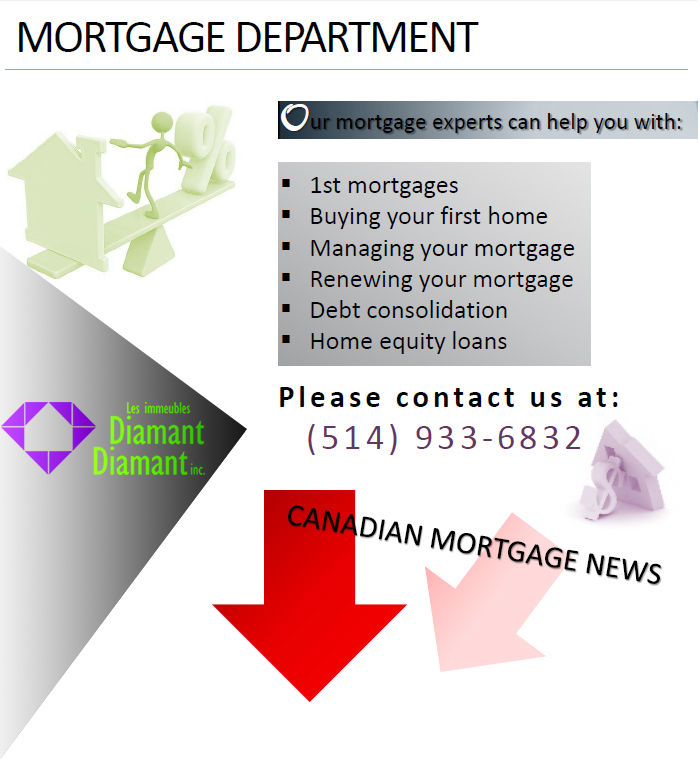 Here at DiamondDiamond, we have residential & commercial mortgage brokers. They deal in mortgages and nothing else. So they have a better knowledge than any banking representative.
And not only are they smarter about mortgages, they are prepared to work much harder for your business. Since they don't collect a salary, they only get paid when they have satisfied your mortgage needs completely. So they do whatever it takes to make you happy, including meeting with you evenings and weekends, chasing all the necessary documents, and exhausting every option in finding you the best package of rates and features.
Since our brookers are not affiliated with any one lender, DiamondDiamond can offer you mortgages from dozens of different sources. Even if you have special credit or financing needs, you're almost certain to find a solution through DiamondDiamond's Mortgage Services.
Our brookers will research all the mortgages that fit your needs and point out the strengths and weaknesses of each. Then, with you, they will choose the one that works best for your lifestyle and financial situation. And best of all, our specialized professional advice and assistance is free in most cases. There simply isn't a smarter way to get a mortgage!
Our mortgage planning services.
Your mortgage is one of the biggest financial costs of your life. It's possible to save tens of thousands of dollars regardless of your interest rate. Of course, like any good broker, we'll help you secure the best interest rate, but our services go much further than that. Our mission is to maximize the savings of our clients on their mortgages. To achieve this we use a mortgage planning process.
Here is what we offer for each of our clients:
Establish a mortgage strategy focused on your needs and the current economic situation. The goal of the strategy is to reduce the average interest rate you will pay over the life of your mortgage.
Prepare a plan to pay off your house faster without changing the structure of your budget. It is possible to pay off a 25-year mortgage in 15 years without changing your budget habit. You would be surprised at the savings it can generate.
A method of ongoing communication during the mortgage acceptance process. You will always know where your funding request is.
Ongoing management of your mortgage strategy through an annual review.
The strength of our team of mortgage consultants lies in the advice they give to our clients.
Time and effort isn't all we can save you. Getting your mortgages through DiamondDiamond can save you money too!
Because our brookers are dedicated to mortgages and nothing else, they are aware of all the latest trends and new products in the market. If a hot new mortgage becomes available and it fits your needs, they will know about it immediately and make sure it's part of the choices we offer you.
Our in-depth understanding of the various types of mortgages allows us to point out which ones are most cost-effective for you. By analyzing your current and anticipated needs, we can select a mortgage that delivers the right mix of features and flexibility – and ends up saving you a lot of money down the road.
Once you and your DiamondDiamond mortgage consultant have decided on the right mortgage and lender, you get the benefit of our tremendous clout in terms of negotiating the best rate. We've earned preferred rates from most lenders. And on top of that, our seasoned Consultants are experts at squeezing that last eighth of a percent out of even the lowest rate.
Even after you've settled on a mortgage, DiamondDiamond Mortgage Services can continue to save your money. We can suggest special payment schedules or pay-down options that pay off your mortgage quicker without putting a heavy drain on your cash flow.
These are just a few of the smart ways we can save your money.