Residential Real Estate Report-April
prepared by Diamond Diamond Real Estate INC.
Part 1
Market Analysis- Diamond Diamond Real Estate INC.
On March, Quebec real estate market has exhibited a surging demand for condos. April continued the footsteps of the third month of 2021, the transactions, median price, and total sales in condos skyrocket. The condo market in Montreal set up a new historical record of 6,372 in terms of total sales.
The president of Diamond Diamond Real Estate INC, Jocelyn Kao indicates, as the economic center of Quebec, Montreal market is hot as expected. With market situation still very much to the advantage of seller's market, the condos and plexes (2-5 units) in Montreal Island and surroundings increased drastically in price, sales as well as active listings in the market.
Among the most sold properties in Island of Montreal, Condos led the highest total sale of 1,400 while single family homes mark the sale of 621!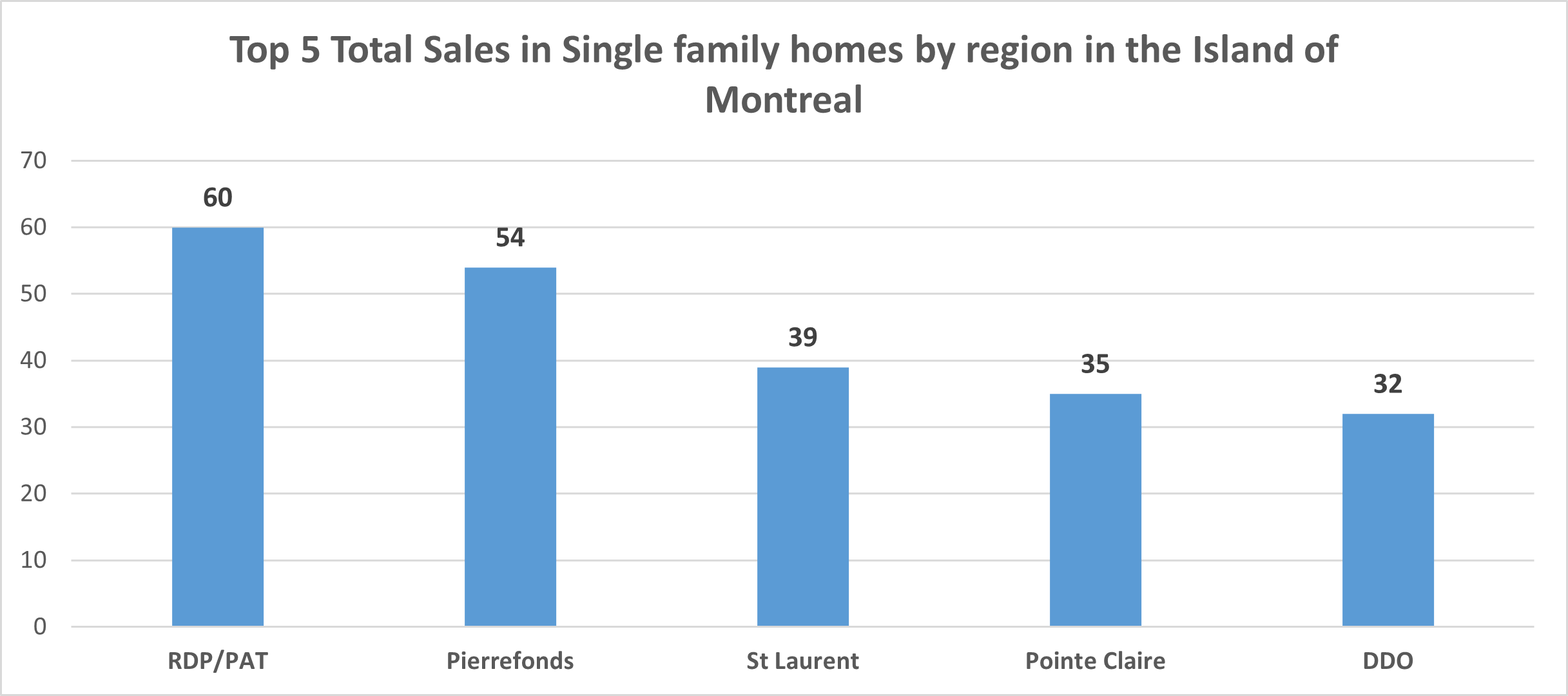 Top five regions that have the most sales in single family homes are RDP/PAT (60), Pierrefonds (54), St Laurent (39), Pointe Claire (35), DDO(32). RDP/PAT has remained the area with highest sales for the six consecutive month, showing a boosting demand at east side of Montreal. Moreover, Pierrefonds, DDO, Pointe Claire and St-Laurent are also the hottest areas in the market in April. Overall, the five cities become the most sought-after areas in Montreal in terms of environment, schools, services as well as transportation.
The top 5 areas with the highest medium price for single family homes are Outremont ($2.33M), Westmount ($1.76M), Hampstead ($1.57M), CDN/NDG ($1.3M) and Ville Marie ($1.28M)
Condo's market presents a remarkable performance this month. Top five regions that have the most sales in condos are Ville Marie(256), Le Sud-Ouest(161)Mercier/Hochelaga(120), Rosemont(115) and Plateau Mont Royal (105).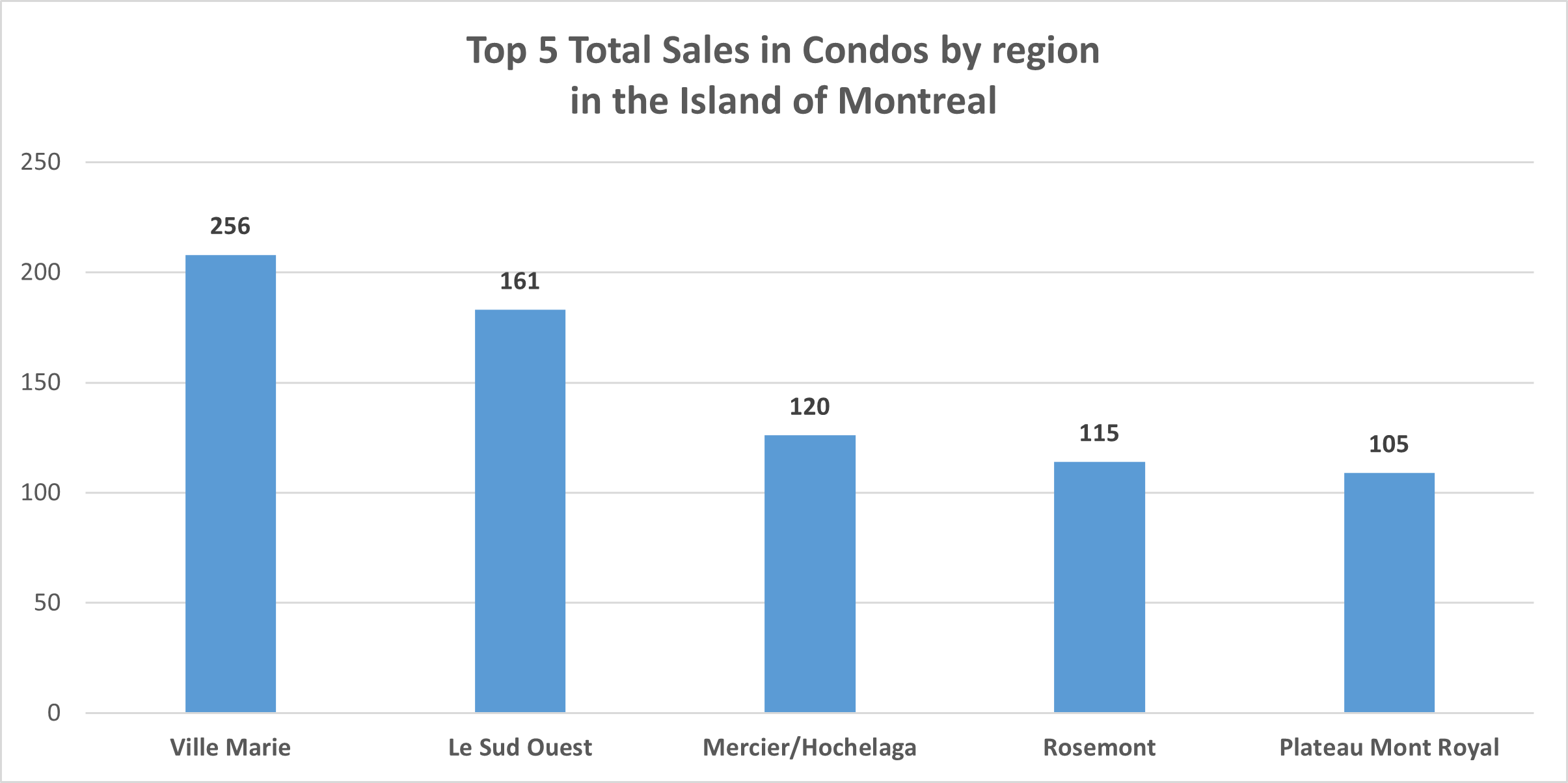 Montreal Metropolitan Area (MMA) is made up of 35 cities, the highest selling price in single family home is $5.97M from Outremont across MMA, 25 cities sold the houses valued more than $1M. 13 cities sold the houses valued more than $2M.
In terms of the condo's market, the most expensive condo is sold at $3.02M from Ville Marie, 15 cities sold condos valued more than $1M.
In conclusion, the sales of condos increase dramatically in the month of April, specifically in the suburbs of Montreal Island. The shortage of listings and the phenomenal growth in prices have affected activity levels.
Part 2
Centris Quebec Real Estate Report- April
April Key takeaways:
1- The real estate brokers' Centris system recorded 6,237 sales in April, a new record. This level of activity is consistent with that observed in March and should be viewed as a maintenance of activities, not as an acceleration in the number of transactions.
2- On the Island of Montreal, 2,399 sales were concluded, a record 17 per cent increase when compared to April 2019 and a level of activity consistent with that recorded last month. This robust activity can essentially be attributed to condominium sales following the same trend as that observed since the start of 2021.
3- Condominium sales reached a new record (2,466), up 13 per cent from April 2019 across the CMA, which is consistent with the trend noted since the start of the year. Without setting a record, the same goes for small income properties (650 sales, +35 per cent). It is especially outside the Island of Montreal that plex sales have continued to surge. Single-family property sales (2,490) in outlying areas continue to decline: -7 per cent compared to April 2019.
4- Compared to April 2020, active listings of condominiums have increased by 22 per cent (5,298), with plexes also showing an upward trend (1,977 listings, +27 per cent). Active listings of single-family homes remain at an all-time low (4,249 listings, -40 per cent).
5- With market conditions still heavily favoring sellers, median prices are reaching new highs. The median price of single-family properties reached the psychological threshold of $500,000 (+39 per cent compared to April 2020). The growth rate of median prices also remains very high for condominiums and, to a lesser extent, for plexes with respective increases of 23 per cent and 15 per cent.
Resources: https://apciq.ca/en/montreal-real-estate-market-condominium-sales-are-growing-faster-than-single-family-home-sales-and-prices-skyrocket-in-the-suburbs/)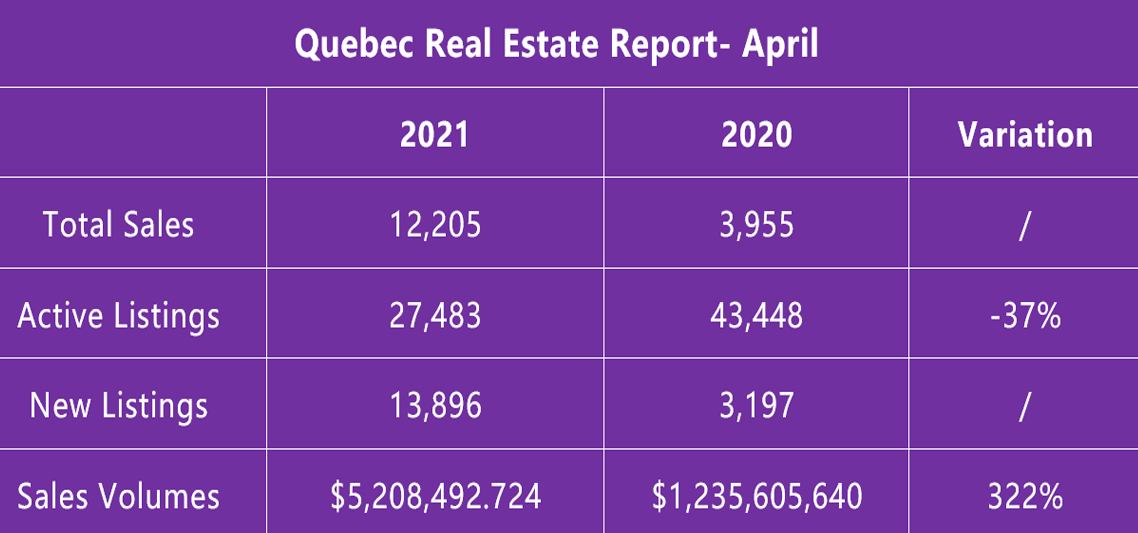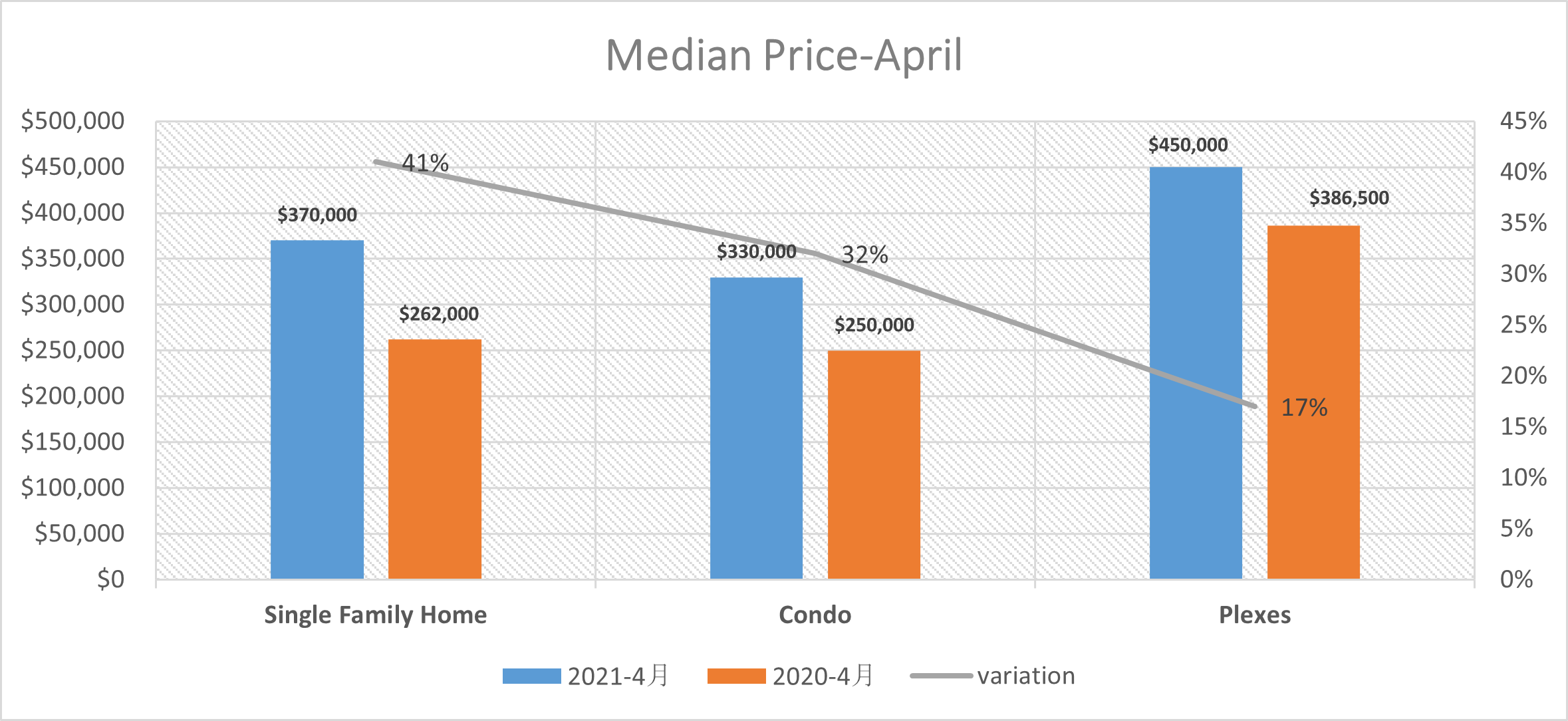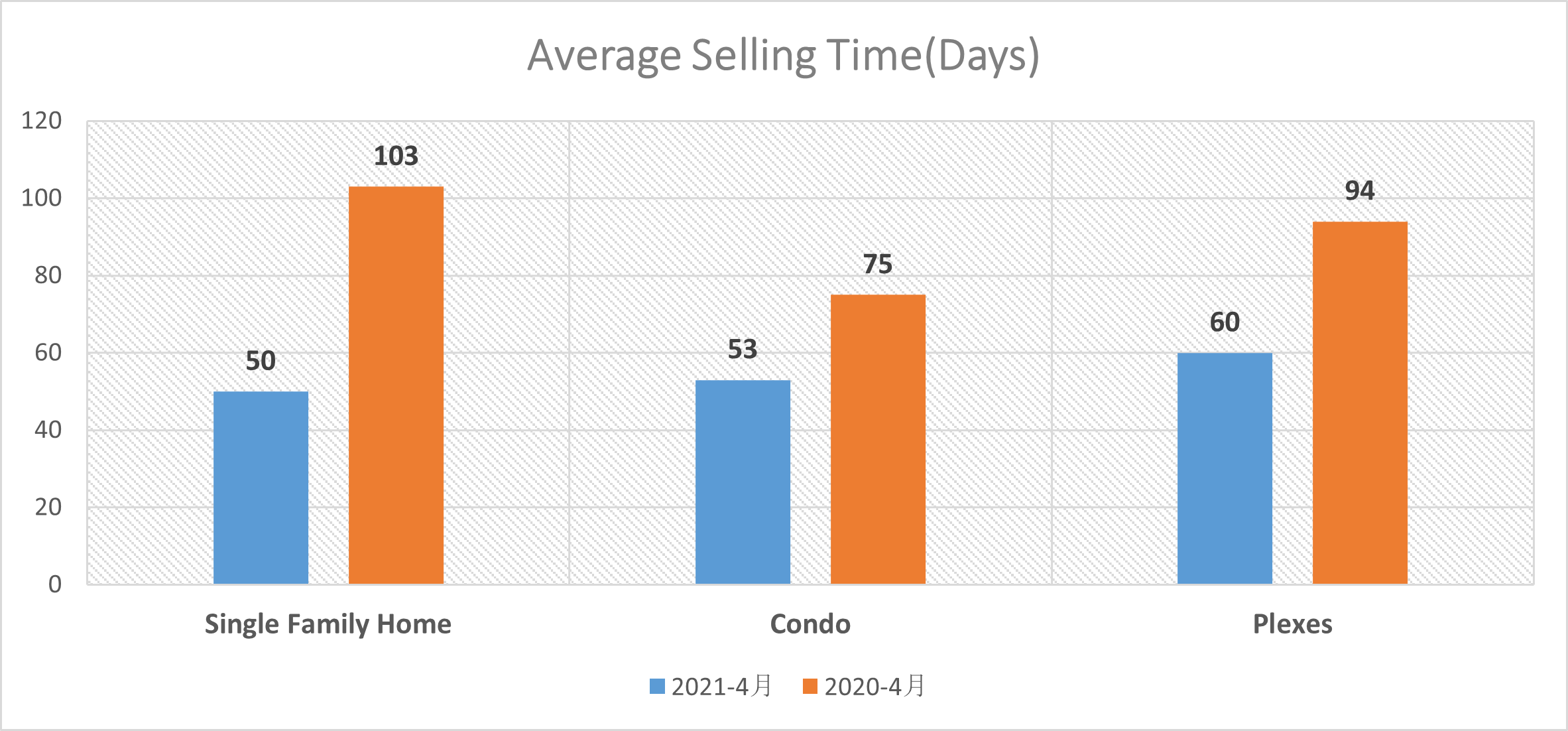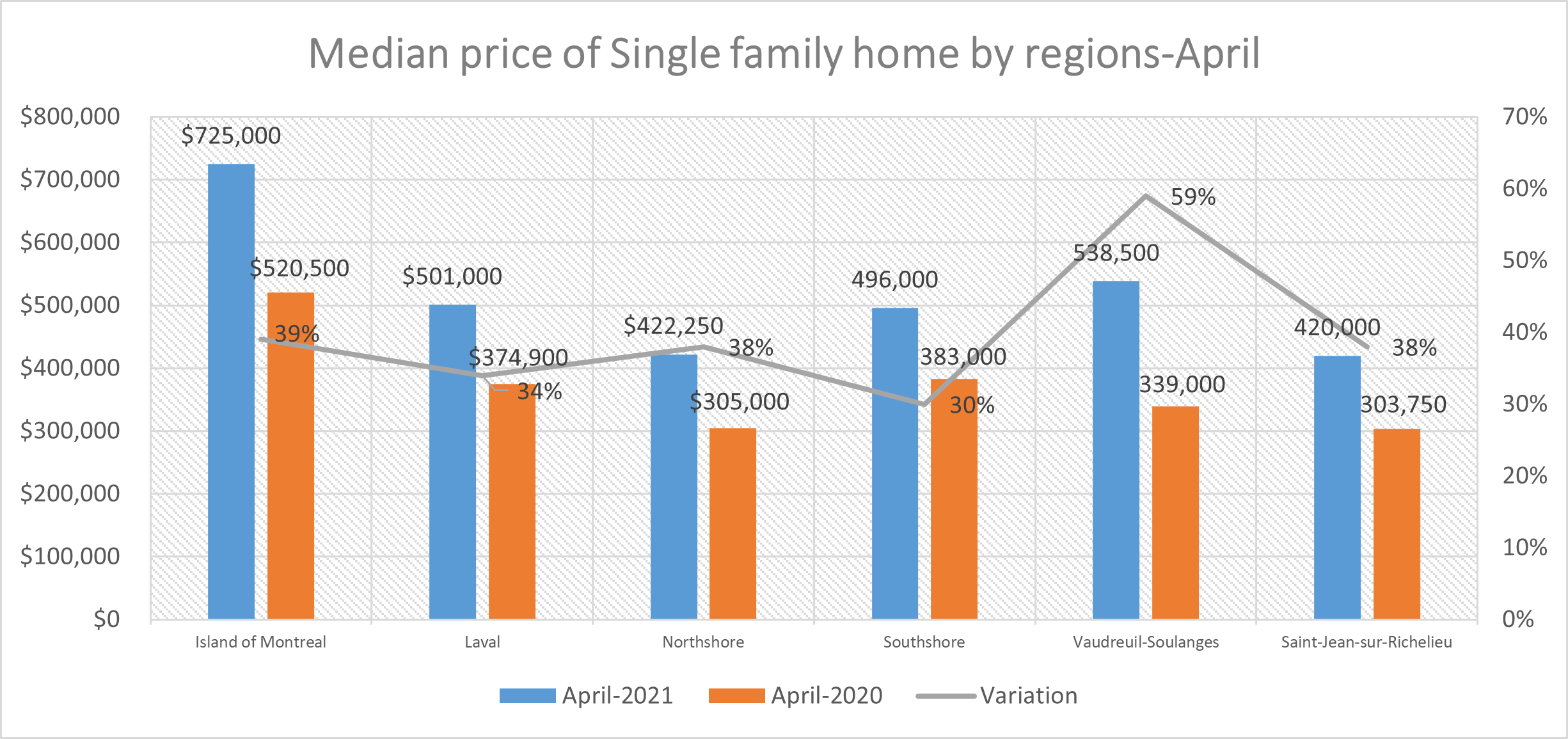 (All the figures from https://apciq.ca/en/)