Residential Real Estate Report-February
prepared by Diamond Diamond Real Estate INC.
Part 1
Market Analysis- Diamond Diamond Real Estate INC.
On January, Quebec real estate market started by breaking a historical record of sales in Condo and Plexes.  February continued the footsteps of the first month of 2021, the transactions, median price and total sales in condos increase, particularly the price of condos in suburb surged for the past month!
The president of Diamond Diamond Real Estate INC, Jocelyn Kao indicates, as the economic center of Quebec, Montreal market shows no signs of slowing down. With market situation still very much to the advantage of seller's market, the condos and plexes (2-5 units) in Montreal Island and surroundings skyrockets in price and sales, demonstrating a huge investment potential.
Among the most sold properties, Single family home remains the highest total sale of 2,522 while condos mark the sale of 2,076! Plexes (2-5 units) has the strongest growth by 19%, 504 properties are sold on February.
Top five regions that have the most sales in single family homes are RDP/PAT (67), St Laurent (30), Lasalle(25), Pierrefonds(27) and Kirkland(22). RDP/PAT has led the sales for the five consecutive month, showing a surging demand at east side of Montreal. Moreover, St Laurent, Pierrefonds and Lasalle remains strong in total sales on February. Overall, The five cities become the most sought-after areas in Montreal in terms of environment, schools, services as well as transportation.
Condo's market bounced back this month. Top five regions that have the most sales in condos are Ville Marie (159), Le Sud-Ouest (101), Rosemont (93), Mercier/Hochelaga (82) and Plateau Mont Royal (72).
Montreal Metropolitan Area (MMA) is made up of 35 cities, the highest selling price in single family home is $4.7M in Outremont.  Across MMA, 24 cities sold houses valued more than $1M. Regarding the condo's market, the most expensive condo sold for $3.38M in Mont Royal, 9 cities sold condos valued more than $1M.
In conclusion, the sales of condos increased dramatically in the month of February, specifically in the suburbs of Montreal Island. It is still a seller's market since there is a much higher demand over supplies for single homes, condos and plexes(2-5 units).
Part 2:
Centris Quebec Real Estate Report- February
February Key takeaways:
1- Residential sales fell by 3 per cent in the Montreal CMA, the first time since 2015 that sales decreased in the month of February.
2- The Island of Montreal performed well with a 6 per cent increase in sales, mainly due to condominium transactions, which jumped by 16 per cent. In contrast, sales fell significantly in all of the peripheral markets: Saint-Jean-sur-Richelieu (-32 per cent), Laval (-14 per cent), Vaudreuil-Soulanges (-10 per cent), the South Shore (-8 per cent) and the North Shore (-3 per cent).
3- Sales by property category: Strong growth for plexes (+19 per cent) and condominiums (+8 per cent) across the CMA.
Increase in active listings of condominiums (+10 per cent), mainly on the Island of Montreal (+54 per cent). Active listings of single-family homes continued to decline (-51 per cent), particularly in the areas on the periphery of the Island.
4- With market conditions still very much to the advantage of sellers, median prices continue to accelerate dramatically against a backdrop of overbidding. The median price of single-family homes reached $460,000 (+28 per cent), which is $100,000 more than just 12 months ago. Median price increases were also very high for condominiums (+24 per cent) and plexes (+9 per cent).
(Resources: https://apciq.ca/en/montreal-real-estate-market-condominium-sales-are-growing-faster-than-single-family-home-sales-and-prices-skyrocket-in-the-suburbs/)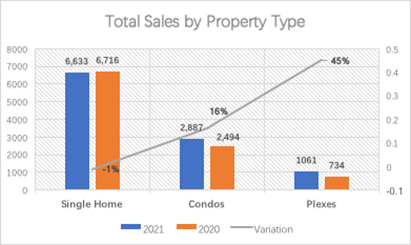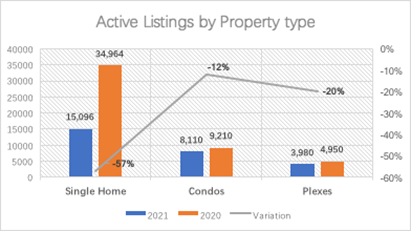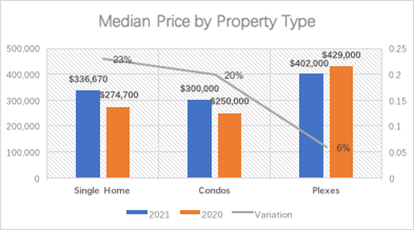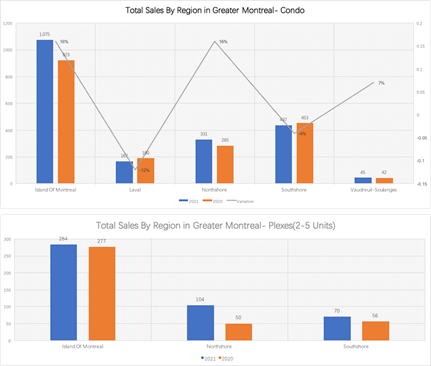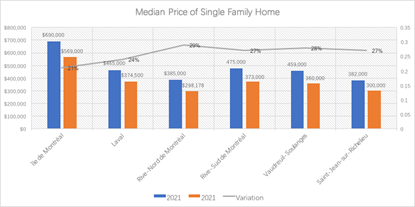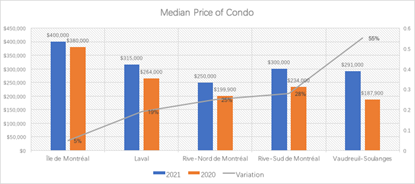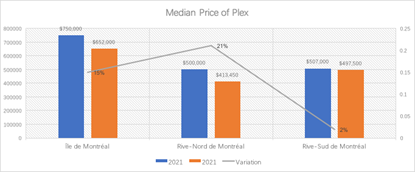 (All the figures from https://apciq.ca/en/)