Residential Real Estate Report-July 2021

prepared by Diamond Diamond Real Estate INC.
Part 1
Market Analysis – Diamond Diamond Real Estate INC.
In July, Quebec's real estate market shows no signs of slowing down, the median price of single family homes and condos continues to soar by an increase of 15%, lots of transactions have been concluded above asking price.
The president of Diamond Diamond Real Estate INC, Jocelyn Kao indicates, as the economic center of Quebec, Montreal market is hot as expected. With market situation still very much to the advantage of seller's market, almost half of the sales transactions in Montreal CMA were closed at a price that was over the asking price.
In addition, plexes becomes one of the most popular properties among investors, particularly in the suburbs of island of Montreal, the booming demand is mainly driven by the bounce back of rental market.
Among the most sold properties in Island of Montreal, Condos led the highest total sale of 833 while single family homes mark the sale of 401!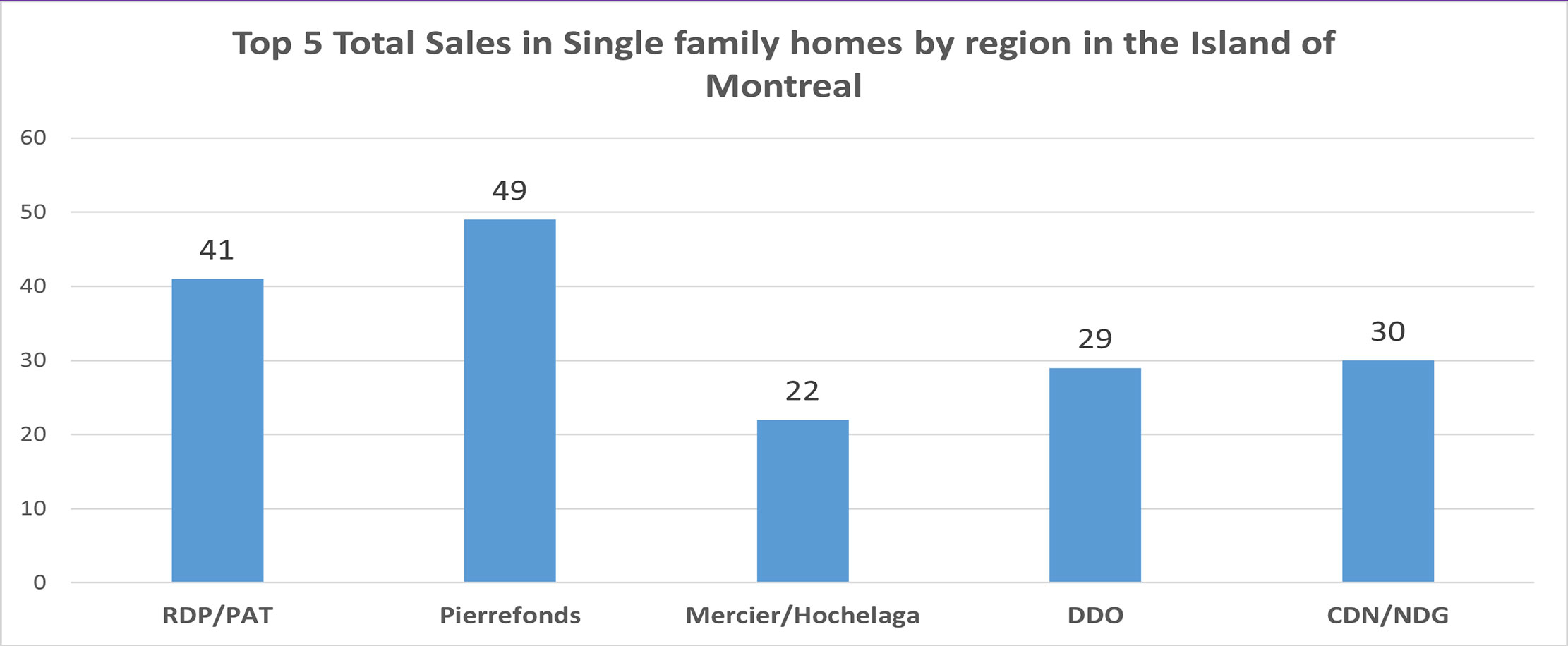 Top five regions that have the most sales in single family homes are RDP/PAT (46), Pierrefonds (40), St-Laurent (31), DDO (28) and Pointe Claire (27).
RDP/PAT has led the highest sale among all the regions in Island of Montreal, showing a boosting demand at east side of Montreal. Moreover, St Laurent, DDO and Pointe Claire are also the hottest areas in the market in July. Overall, The five cities are currently the most sought-after areas in Montreal in terms of environment, schools, services as well as transportation.
The top 5 areas with the highest medium price for single family homes are Mont Royal ($2.34M), Westmount ($2.19M), Hampstead (1.92M), Outrement ($1.8M) and Plateau Mont Royal ($1.15M) CDN/NDG(1.15M)
Condo's market maintains a remarkable performance this month. Top five regions that have the most sales in condos are Ville Marie(160), Le Sud-Ouest(97), Plateau Mont Royal (60), Mercier/Hochelaga (59) and Rosemont (50)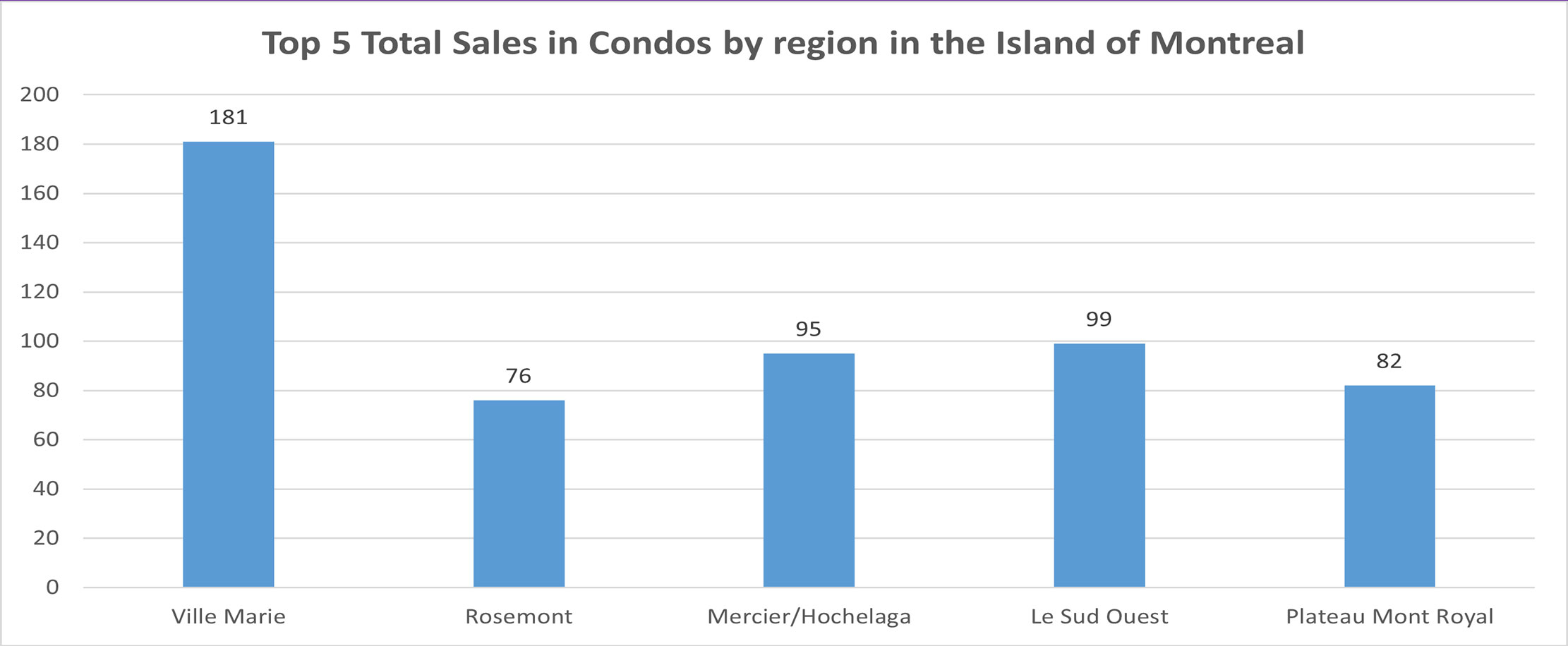 Montreal Metropolitan Area (MMA) is made up of 35 cities, the highest selling price in single family home is $5.4M from Verdun/Nun's Island, 24 cities sold the houses valued more than $1M. 8 cities sold the houses valued more than $2M.
In terms of the condo's market, the most expensive condo is sold at $3.048M from Ville Marie, 9 cities sold condos valued more than $1M.
In conclusion, the sales of condos continued to grow in the month of July, specifically in the heart of Montreal Island. The shortage of listings and the phenomenal growth in prices have affected activity levels.
Part 2
Centris Quebec Real Estate Report – June
July Key takeaways:
1-The real estate brokers' Centris system recorded 3,799 sales transactions in the Montreal CMA in July. This represents a 29 per cent decrease in sales compared to the peak recorded in July of last year, and solidifies the downtrend in sales that began in early spring. However, this is the second best result ever recorded for a month of July since Centris began compiling market statistics in the year 2000.
2- The increase in the supply of plexes on the market (+27 per cent) contrasted with the drop in active listings for single-family homes (-37 per cent) and condominiums (-15 per cent).
3- In terms of prices, the median price of single-family homes stood at $500,500 in July, an increase of 18 per cent compared to July of last year. The median price of condominiums reached $360,000, a 16 per cent increase, while that of plexes stood at $670,000, up 7 per cent. The market is still in a situation of overheating, as almost half of all transactions in July were concluded at a price that was above the asking price. However, this situation has been easing for three months now.
Resources:
https://apciq.ca/en/montreal-real-estate-market-condominiums-and-plexes-set-new-sales-and-price-records-in-june/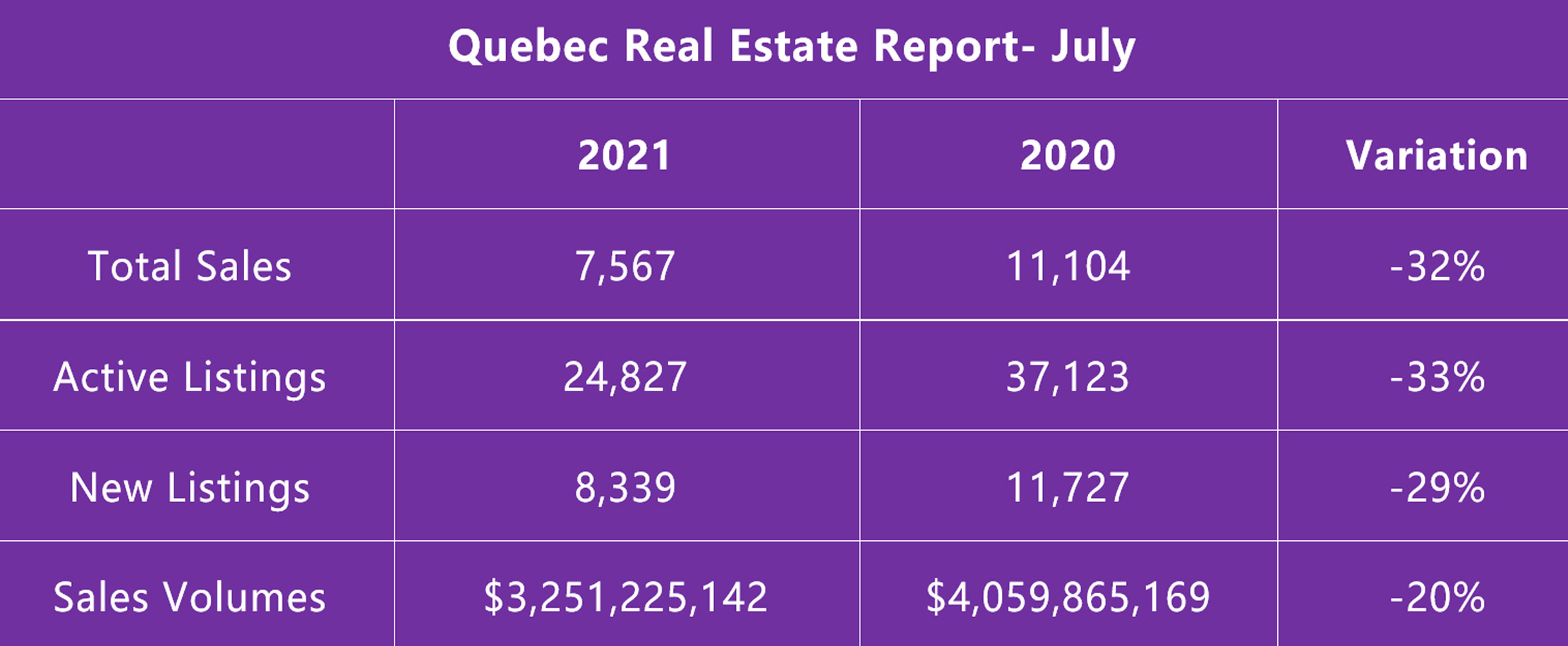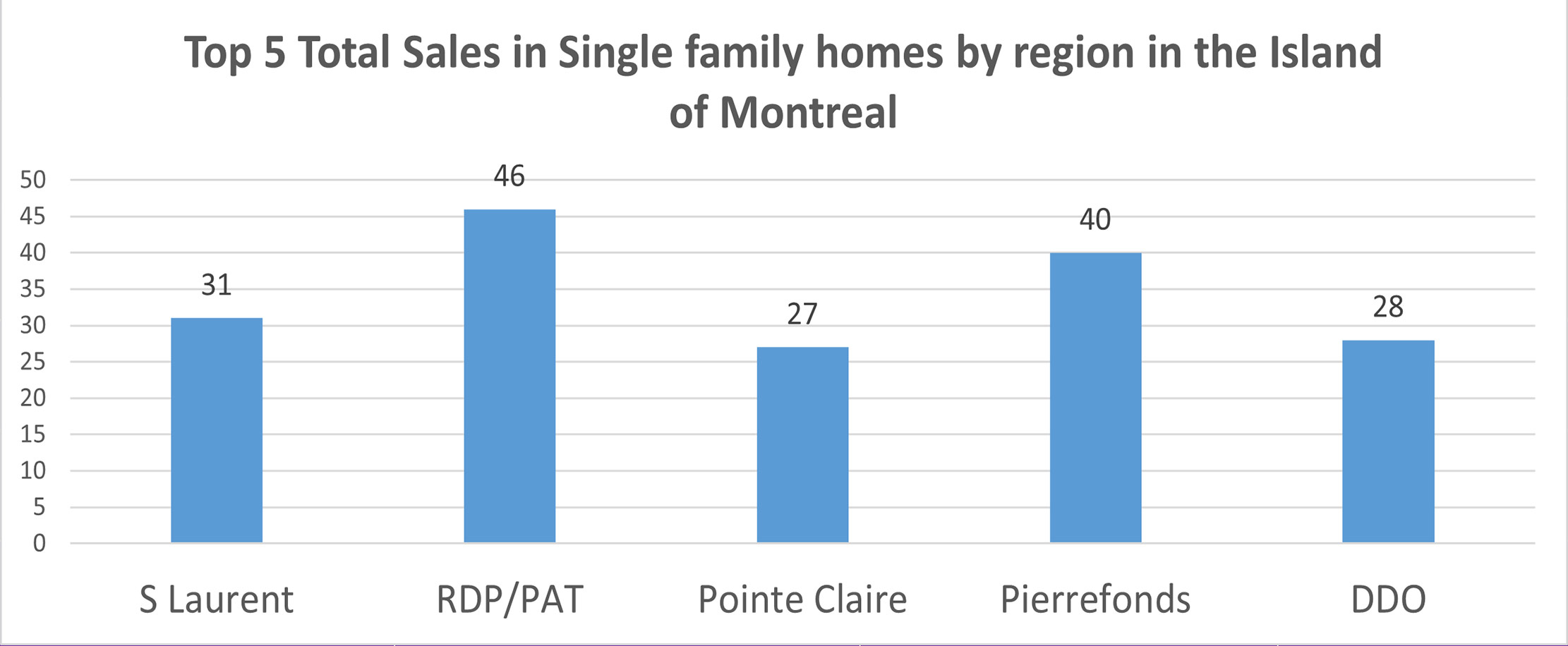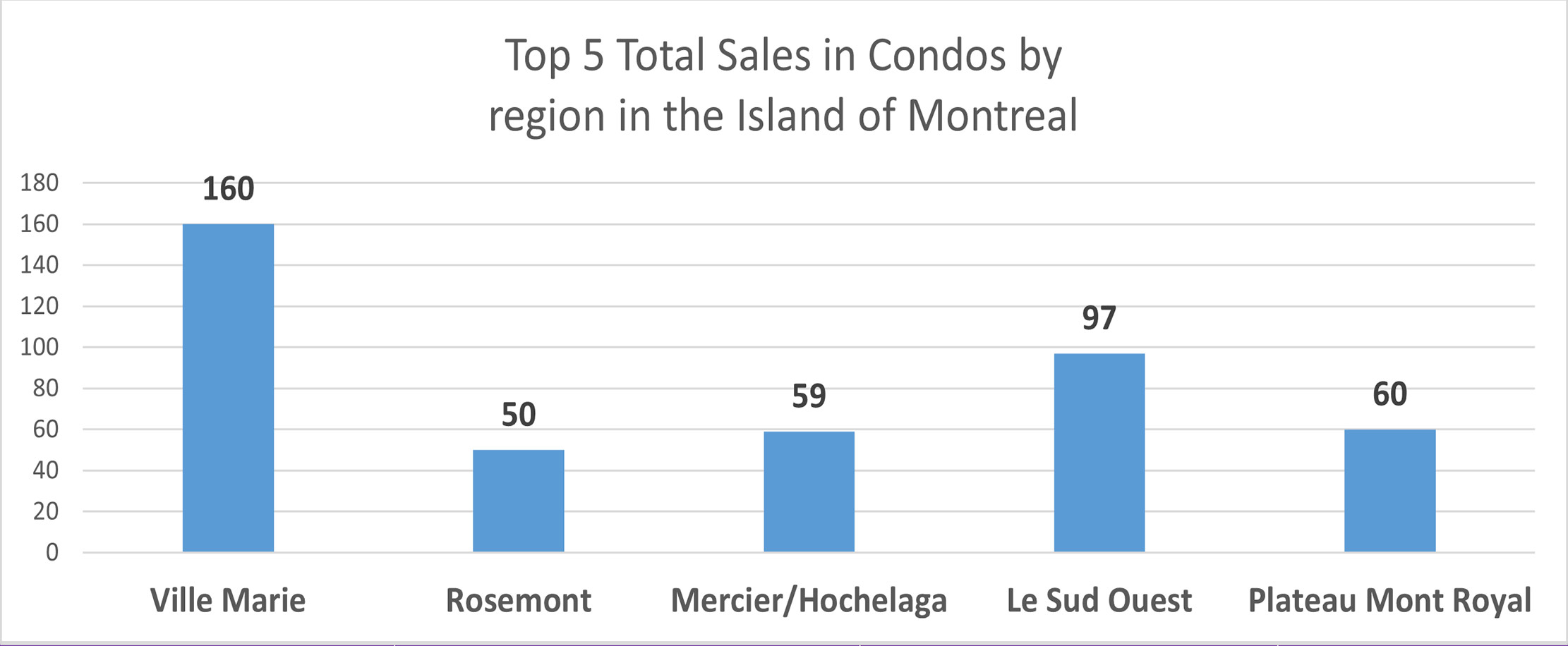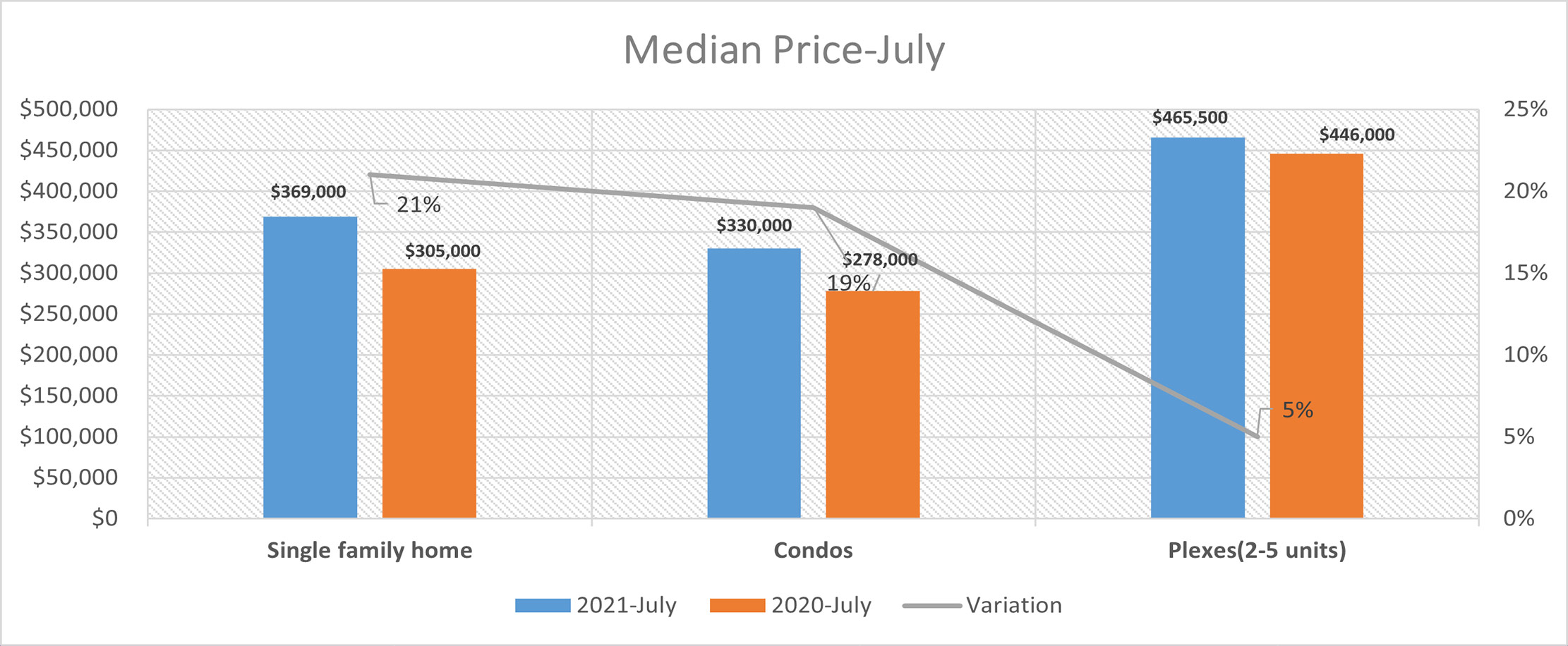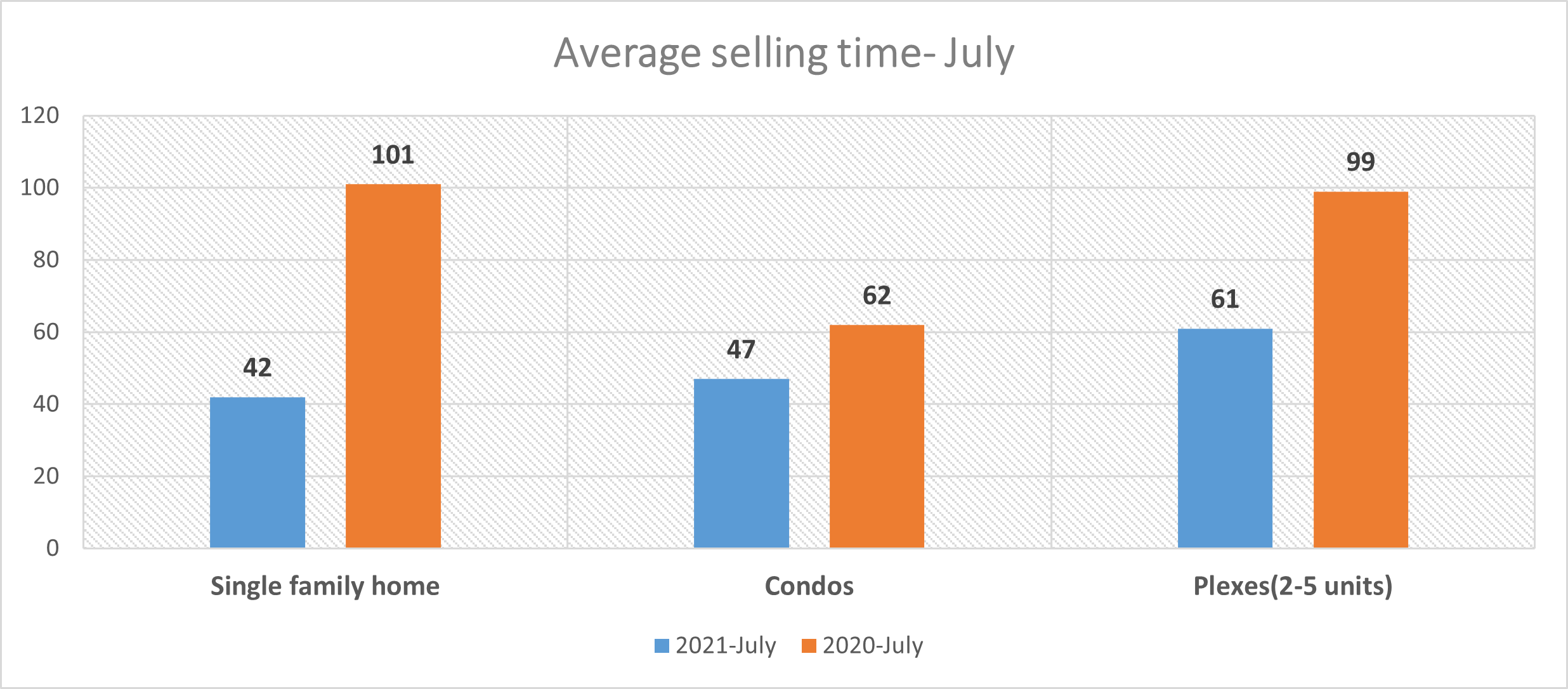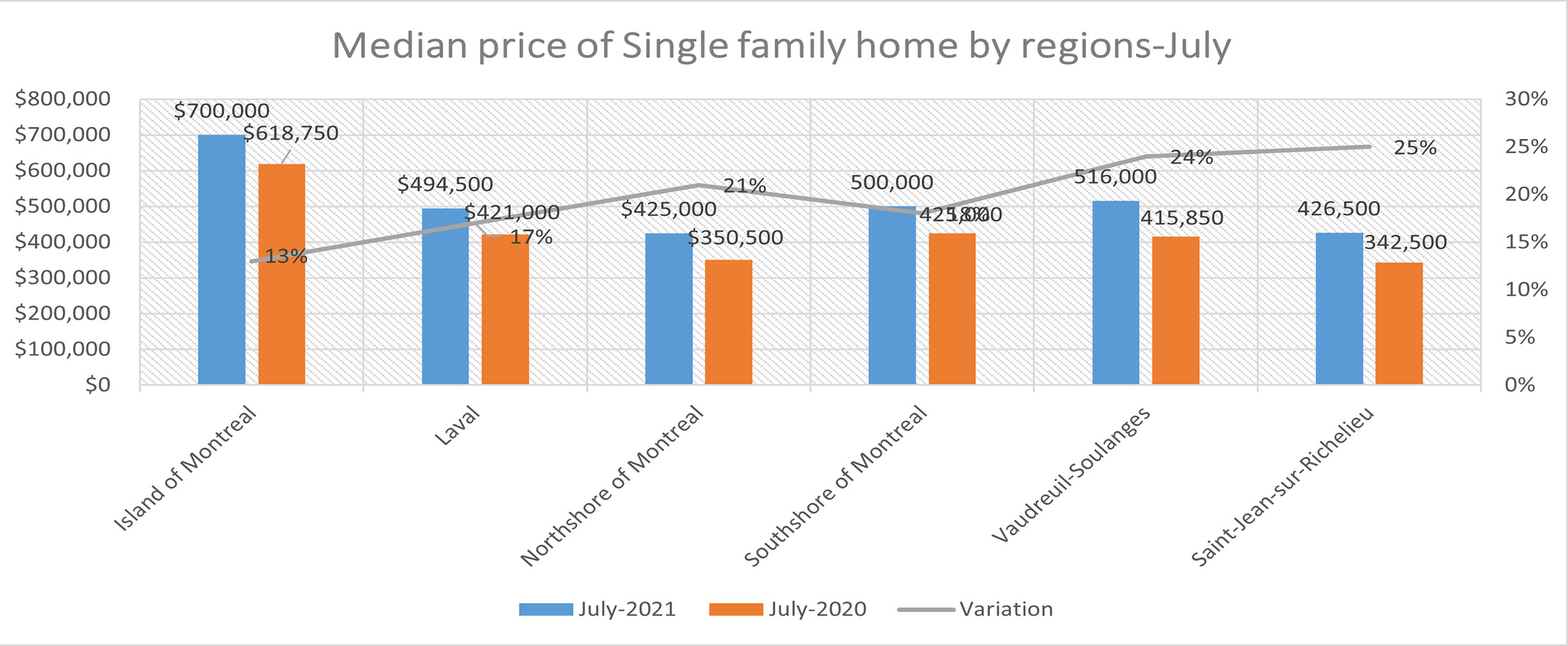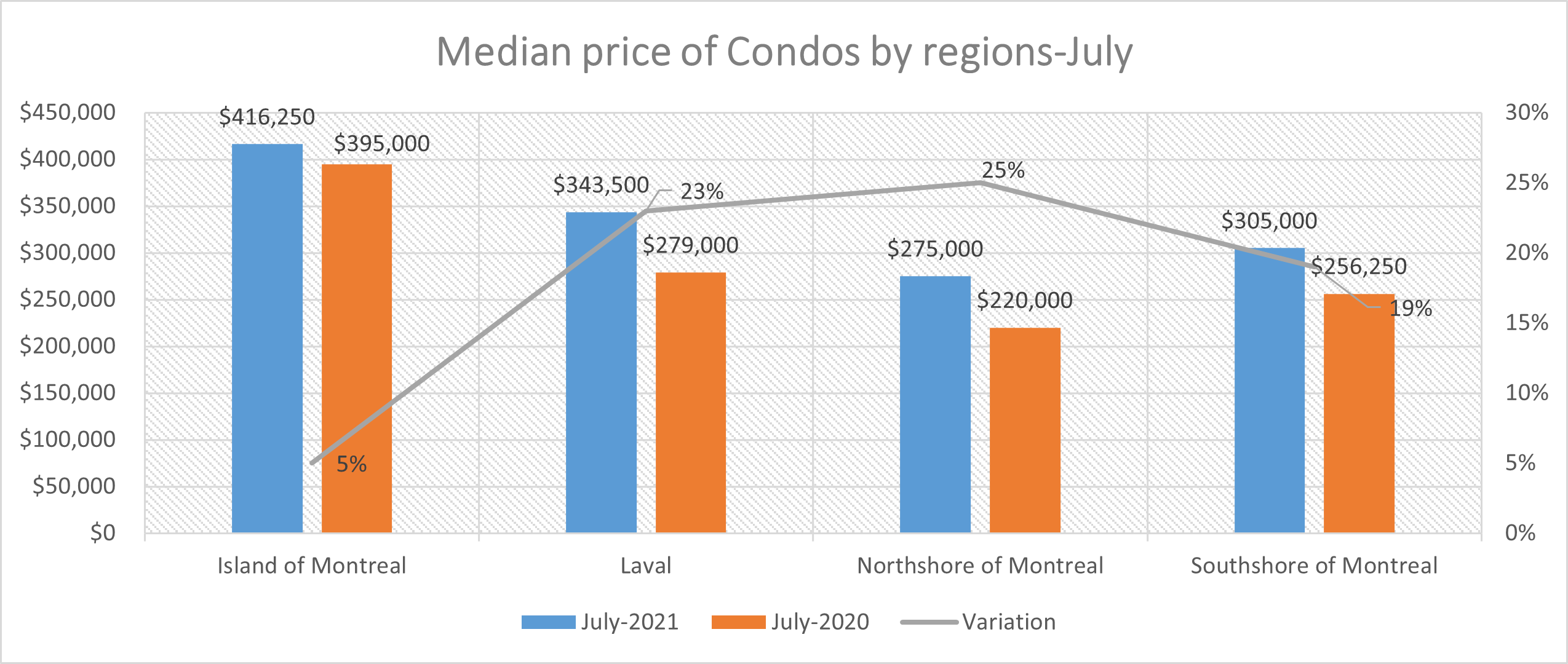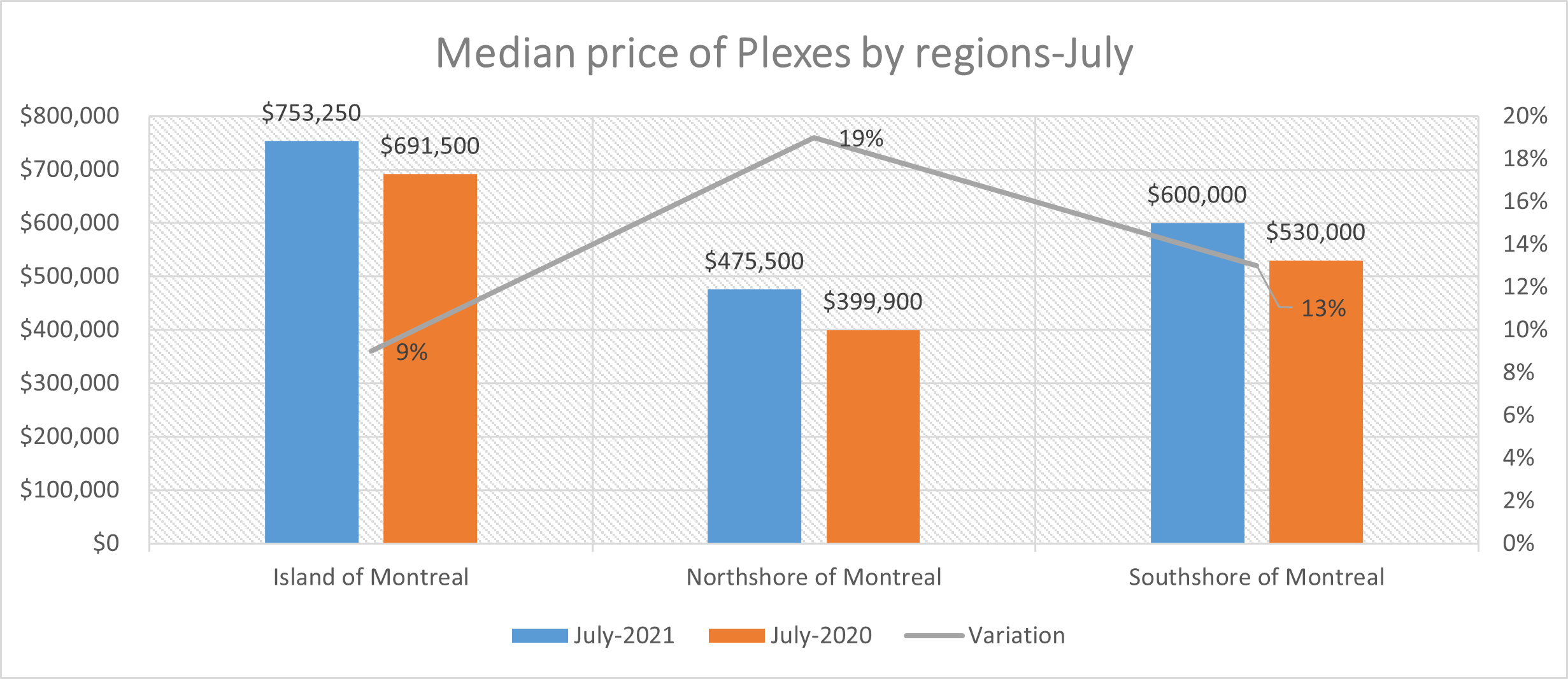 (All the figures from https://apciq.ca/en/)